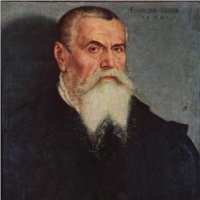 Lucas Cranach Day
by Pastor William C. Mack | April 5, 2021
Happy Lucas Cranach Day! "Who?", you say. On April 06, Lucas Cranach the Elder is commemorated in the Lutheran Church as being one of the greatest Christian painters. Born in central Germany, in 1472, he learned the art of drawing from his father. He soon took up painting and drew the attention of Duke Frederick III of Saxony who brought him into his court.
He painted numerous court individuals and branched out, eventually, painting emperors and, most importantly to us in the Lutheran Church, Dr. Martin Luther himself!
Although born and baptized in the Roman Catholic faith, Cranach became part of the Lutheran church; even becoming a close friend of Luther. He strove to convey the Truth of the Gospel, forgotten by so many clergies in the Roman Catholic Church, through his works of art. He was even the godfather to Luther's first child!
Close to our own hearts, as Lutherans, Cranach made numerous woodcut illustrations for Luther's German translation of the Bible. Duke Frederick III even conferred on him a printer's patent with exclusive privileges as to copyright in Bibles. His presses were used by Martin Luther to spread God's Word near and far. It has been said, if it were not for Cranach's printing presses, "the Lutheran movement would have died an early death." As we know, thanks be to God, the Word of God spread as thousands took their beloved copies of the Bible to their homes, to relatives, etc. The printing press of Cranach also sent hundreds of Luther's documents to parts throughout the world.
Cranach made a bold statement in an era when being Lutheran was not popular but his, God-given, faith led him to proclaim the Truth through his paintings and his other business of printing. He died at the age of 81 in Weimar, Germany.
In this Easter season, we celebrate the resurrection of Jesus Christ. Let us take a moment to thank God for using his servant, Lucas Cranach, who painted his Savior's love on canvas and was used by the Lord to print His incredible Word; a message that has spread worldwide and has changed untold millions of hearts. Oh that God would use each and every one of us today in our own vocations to that end!
One of Cranach's last works is the altarpiece for the Stadtkirche Church at Weimar. There, Christ is shown twice, trampling on Death and Satan, to the right crucified, with blood flowing from the lance wound. John the Baptist points to the suffering Christ, while the blood-stream falls on the head of a portrait of Cranach, and Luther reads from his book the words, "The blood of Christ cleanses from all sin." Amen and Amen! A blessed Easter to all, in Him Who is risen indeed!
Pastor William C. Mack